Doing Life With… is a new BellaNaija Features series that aims to showcase how people are living, working, travelling, journalling, taking c...
Doing Life With… is a new BellaNaija Features series that aims to showcase how people are living, working, travelling, journalling, taking care of their families and… everything in between. We aim to document the lives of all people and ensure everyone is well-represented at BN through storytelling.
Last week, we had a conversation with Alma Asinobi. Did you miss it? Read it here.
Today, we're doing life with Daniel Chibuzo Osuoha, popularly known as the Celebrity Danfo Driver on Twitter who decided to venture into Danfo driving after losing his job in 2020.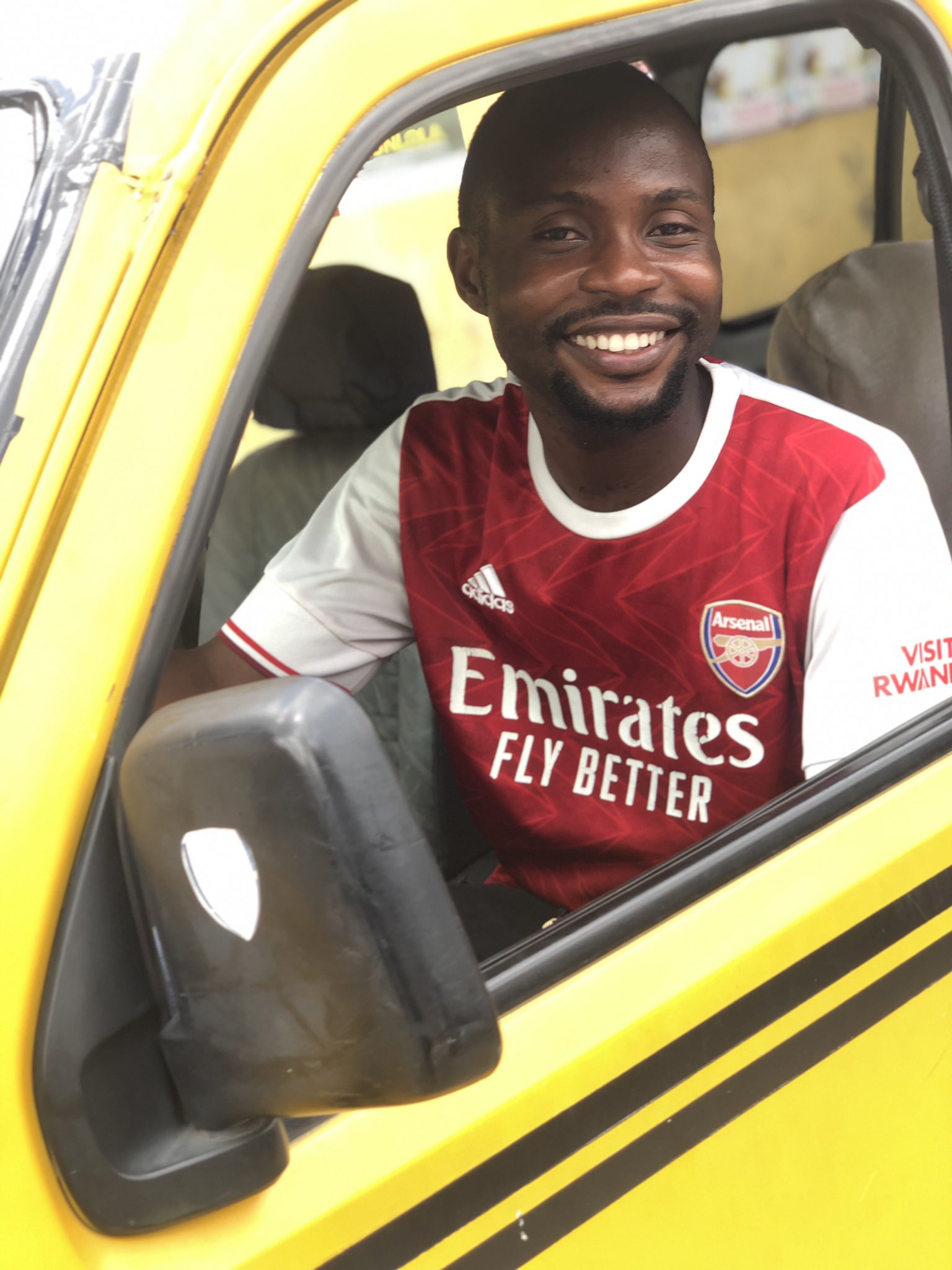 Hey Daniel, tell us how you're feeling today
I feel highly spirited and optimistic about new blessings and opportunities.
Good, good! So who is this 'Celebrity Danfo Driver'?
My name is Daniel Chibuzo Osuoha, a native of Irete in Owerri West LGA, Imo State. I'm the firstborn in a family of 4 boys and a girl.
Being a firstborn comes with a lot of responsibilities, What are some interesting childhood memories you cannot forget?
When I first learned how to prepare garri! Since I knew how to make it, I made sure my mom stopped doing that chore. I did it with all joy and, because I was young, my mom was so proud of me. My second childhood memory was becoming the pioneer head boy of the Winners Model Academy, Irete. Being the head boy of the school was such an honour, and I championed most of the exploits the school made academically within the community.
Nice! And growing up?
I have a BSc in Public Administration from Nnamdi Azikwe University and graduated in 2015. My career has evolved around administrative duties in the private sector where I was a Customer Service Representative, and then a Banquet Manager at one of the leading hospitality firms in Lagos before I opted to be an entrepreneur.
Interesting portfolio. Tell us about your journey as a Danfo driver
I started Danfo driving in 2020, immediately after the COVID-19 era. We all witnessed how the lockdown crippled almost every economic activity in the country. We got no palliatives or relief materials from anywhere and it was all man for himself. I was able to afford to eat, thanks to my uncle Daniel Onyenakorom whom I was staying with. After 3-4 months of lockdown with no salaries nor stipend coming into my pocket, I became so uncomfortable and I started moving around the streets of Surulere, scouting for opportunities to earn some money. At a corner, I saw a minibus (korope) parked with a hire purchase sign placed above it. I immediately thought of venturing into transportation. So I began to get all the information I needed to succeed in the business from Danfo drivers. Afterwards, I enrolled into a driving school for 2 weeks.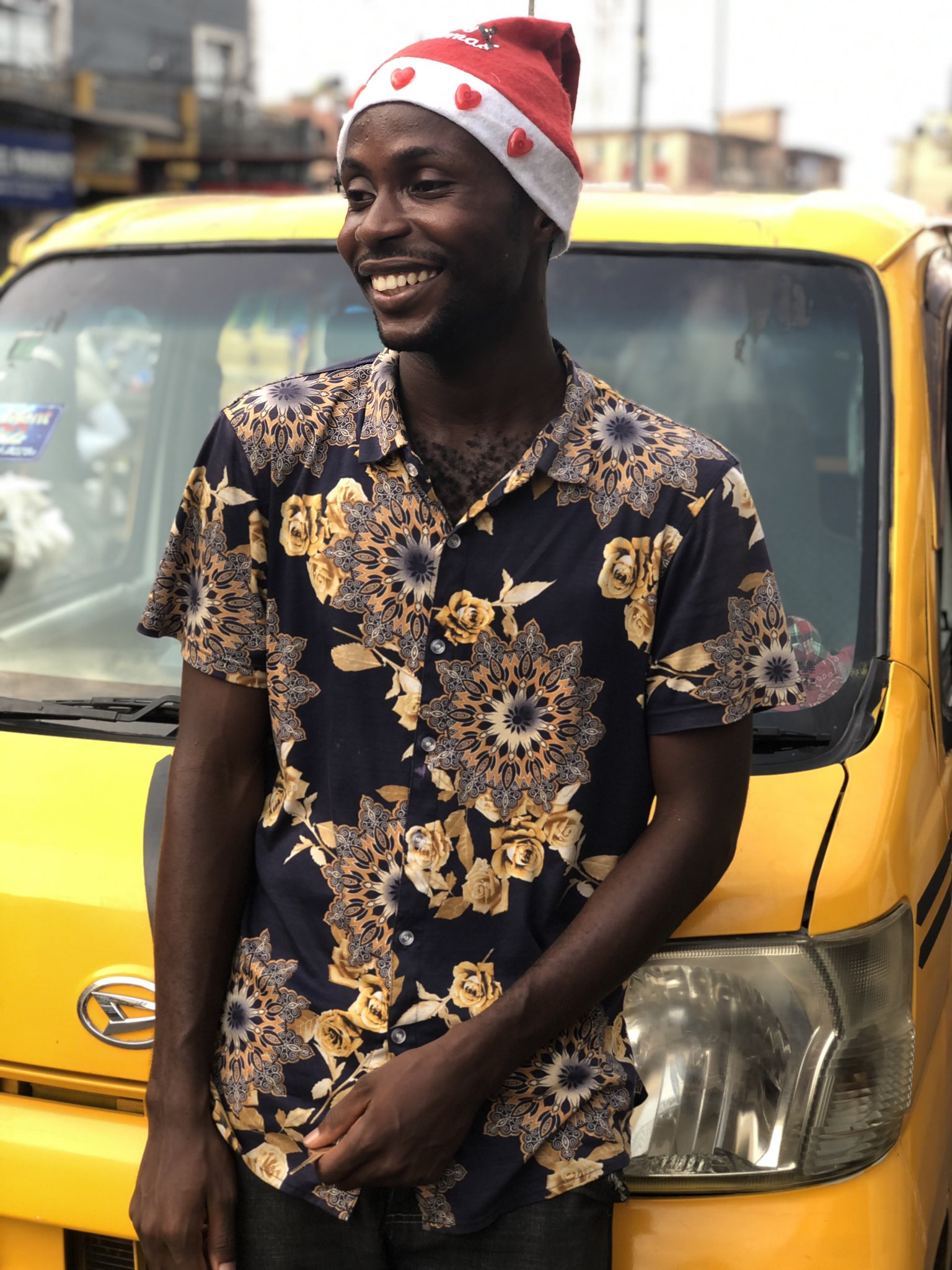 After my driving school, I started scouting for a bus. After checking in with people to no avail, I was directed to a leasing company where I was able to secure a minibus at a very low hire purchase price.
Being a Danfo driver hasn't been all rosy as I thought it will be, but one thing is sure: I'm glad I took that decision then. It offered me money and employment and helped me to discover opportunities in the transport business. Presently, I'm working towards securing a second bus and employing someone to drive it. Like play like play, I will become an employer of labour. Haha.
Aye! We're proud of you. Walk us through your day as a Celebrity Danfo Driver
This hustle as a Danfo driver has really cut my sleeping hours so badly. I wake up by 3:30 am, straight to the bathroom to freshen up. By 4:30 am, I'm already driving from my house to the garage, saying my daily prayer en route. Work starts once I get to the park. 6:50 am to 10 am are rush hours and during these times, I'd be busy moving my passengers to work, schools or business places while tuning in to 99.3FM to stay abreast of news and newspaper reviews from the morning crossfire show.
From past 10 am to mid-day are free hours, I take my breakfast and check social media to keep up with news and info about Arsenal. This is important; I must check out what's going on in the Arsenal world, haha. I have lunch before 4:30 pm and then work until 9pm. After that, I drive down to the restaurant to have dinner as a senior bachelor, haha. I get home by 10 pm, have my bath and do some house chores. Then I pick up my phone to respond to messages and check out social media trends and political news. I sleep by 12 am and by 3:30 am again, my alarm rings to repeat the cycle of things. I don't go to work on Saturdays and Sundays, instead, I spend these days getting quality sleep. Then I do some laundry, visit family and friends and have fun. All work and no play means there won't be a Celebrity Danfo Driver.
We agree! Tell us the story behind you calling yourself 'The Celebrity Danfo Driver'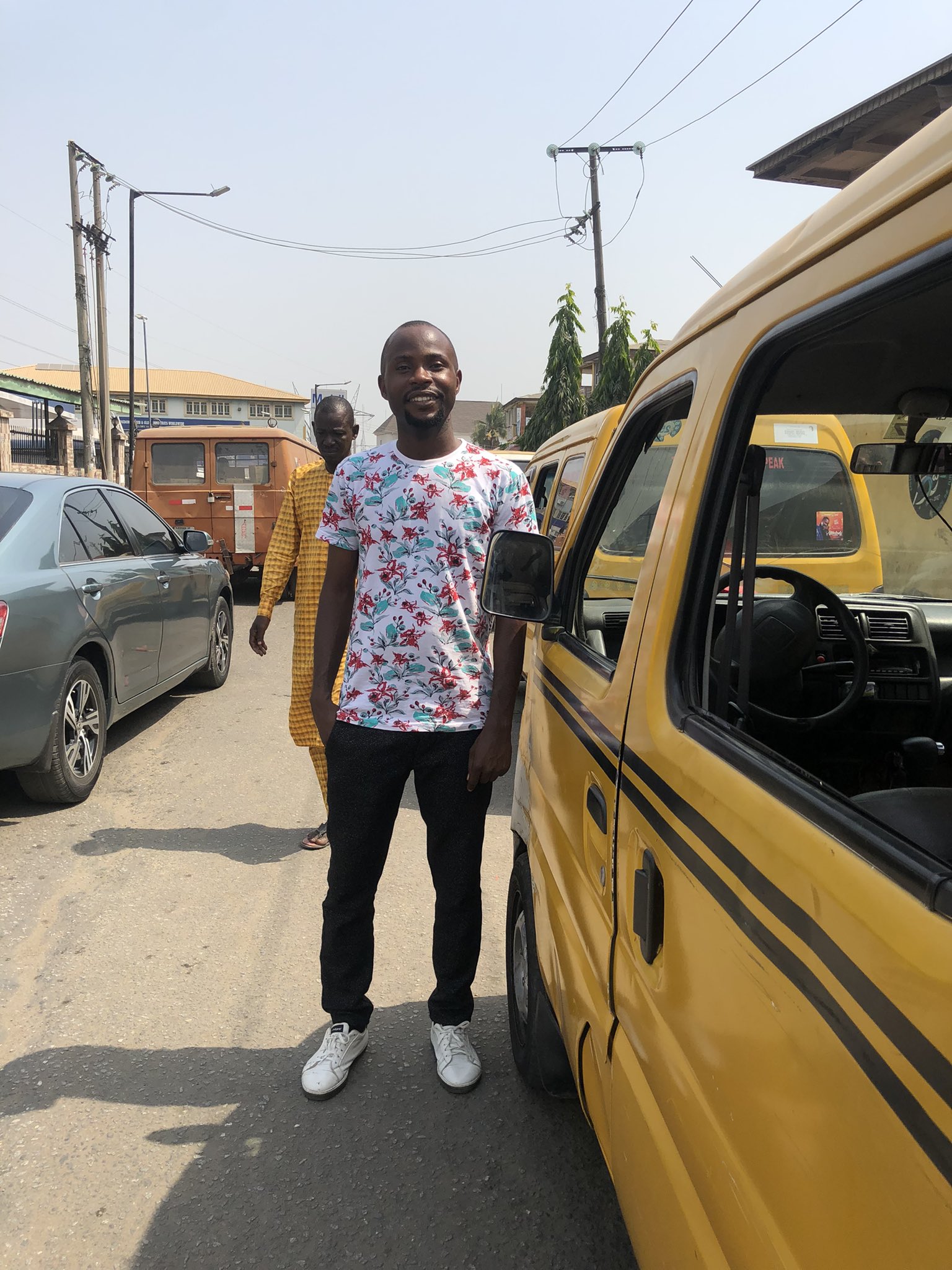 Nigerians have stereotyped Danfo drivers as illiterate, lawless and uneducated. Basically, the profession has been ridiculed. Calling myself the Celebrity Danfo Driver is my way of trying to change the narrative and how Nigerians perceive us. Because of my education, I also chose the title to differentiate myself from the regular Danfo drivers on the streets. With my previous experience as a customer service representative, I am able to bring in professional ethics cum excellent service delivery in the Danfo driving hustle. Another reason is because of the importance of social media which cannot be overemphasised in this current computer age. So building Celebrity Danfo Driver as a brand will give me an audience and help to promote my hustle.
Smart! Driving Danfo no be play, you've got to be smart, yeah?
Very smart.
Give us a glimpse into what it's like being a danfo driver in Lagos
Being a Danfo driver in Lagos demands your commitment to the job and your multitasking abilities. There is no gentle Danfo driver in Lagos. You have to be rugged against agberos and some passengers who want to take advantage of you. As a Danfo driver in Eko, you have to know the road networks; it will help you navigate your way and cut off some unnecessary traffic.
What is the most challenging and exciting thing about your job?
I will speak on challenges first. The first one is agbero wahala. The number of agberos in this transport business is more than the danfo drivers. They are too many; we keep paying them almost at every bus stop. Failure to pay will result in you getting beat up or having your bus vandalised.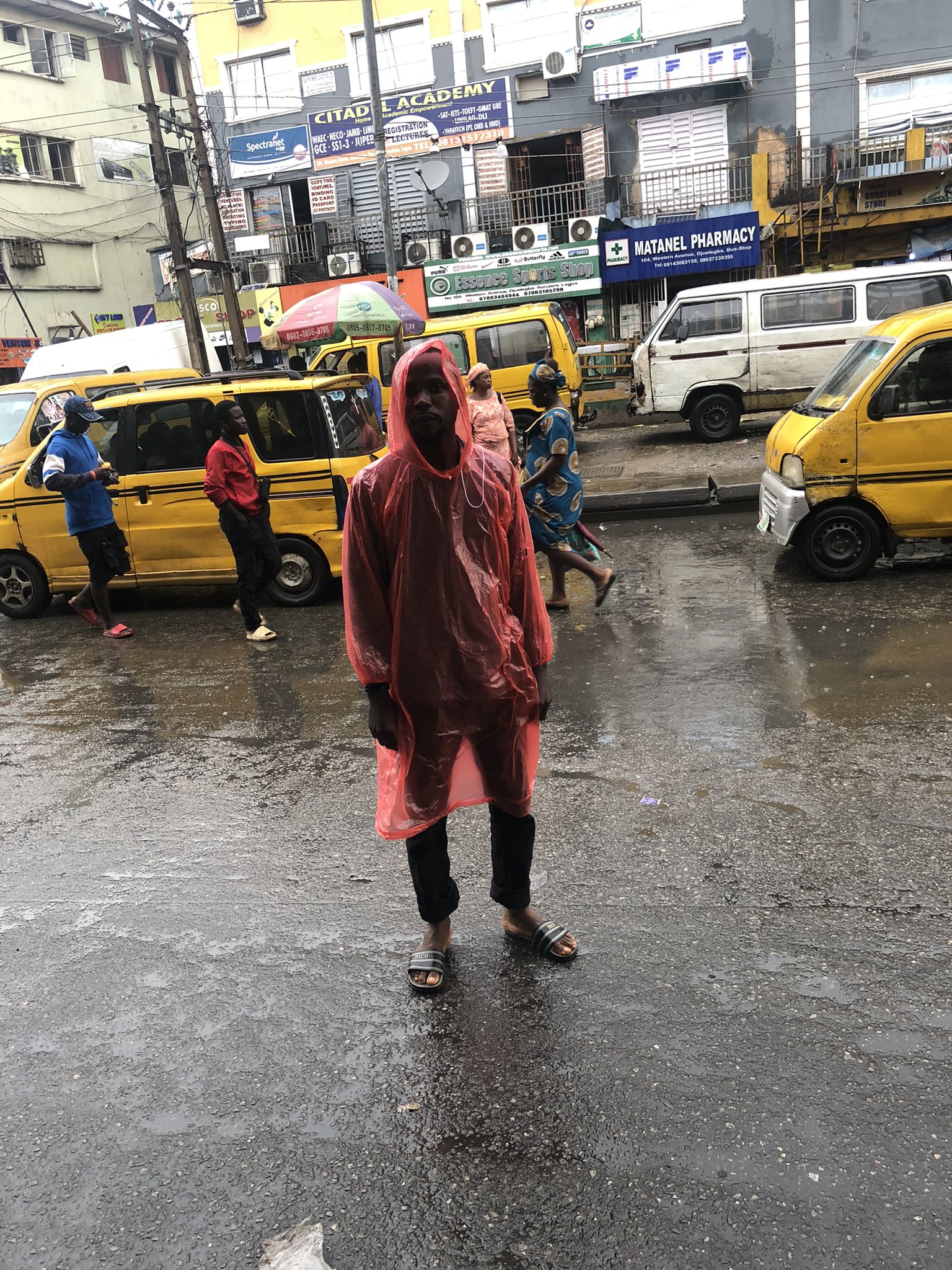 Another one is multiple taxations. We pay a lot of levies: bookings, multiple sales of tickets, chairman chop money, police money, LASTMA money and many more. You dare not argue or resist paying any of these levies if you like yourself or your bus. Almost all the uniform security agencies in the state want to collect their own share too. Another thing is fear of uniformed traffic law personnel like LASTMA, Task Force, VIO and the Police. You cannot operate at ease without being on the lookout for them.
However, the exciting thing about the job is the cash flow returns. You don't have to wait for month-end to get paid. You can define when and where to work without anyone questioning you. As long as you settle the agberos, you are good to go.
What is one beautiful or crazy memory you can never forget in the course of your work?
There is this incident from last year where I was unlawfully arrested by the police officers at Surulere. The police officer arrested me for no reason and I came down from my bus as instructed. Then I took a picture of them, posted it on Twitter and tagged the LASG police PRO, SP, Benjamin Hundeyin. Within a couple of minutes, the story trended, and the LASG Police PRO reached out to me and gave me some directives. The only thing it took me was my productive time, but at last, justice was served. I paid no shishi and the officer was punished for his unprofessional work ethic.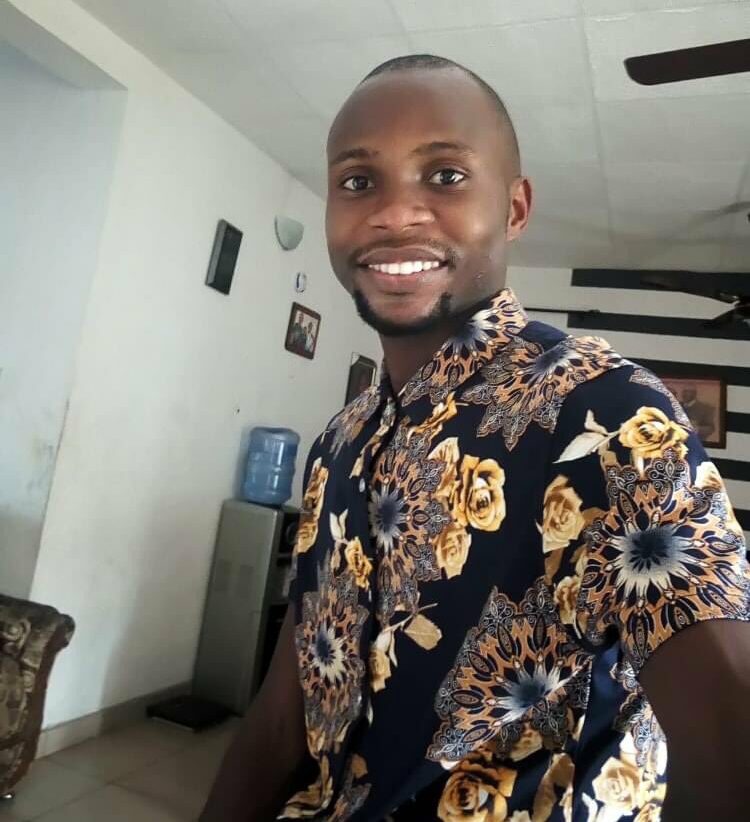 One piece of advice you live by?
If it doesn't kill you, it will surely make you better and, until you get to the top, do not stop.
__
Thank you to Daniel Chibuzo Osuoha for having this conversation with us and answering all our questions. Join us on Saturday for the next episode!
Do you love this content, have any feedback for us or want to be a BellaNaija Features contributor? We'll love to read from you. Shoot us an email: features@bellanaija.com
The post Get to Know The Celebrity Danfo Driver in this Edition of "Doing Life With" appeared first on BellaNaija - Showcasing Africa to the world. Read today!.
source
https://www.bellanaija.com/2023/07/celebrity-danfo-driver-doing-life-with/