Hey Guys, It's that time of the week again—the weekend is here! Get ready to escape to a tropical utopia as you relish the Frozen  Tropica...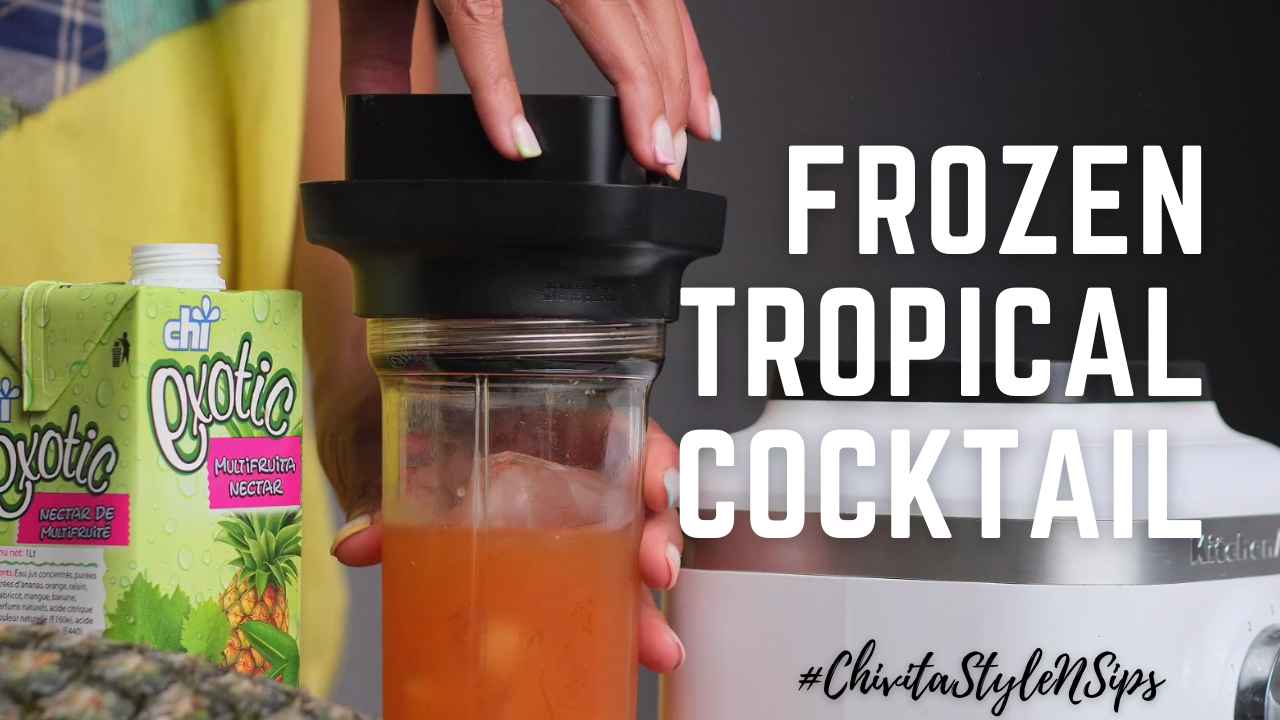 Hey Guys,
It's that time of the week again—the weekend is here! Get ready to escape to a tropical utopia as you relish the Frozen Tropical Cocktail This tantalizing recipe promises to transport you to exotic shores in just a single gulp.
This recipe is a luscious blend of Chivita Exotic Multifruita, coconut simple syrup, and a splash of Cognac. Gear up for a taste-filled odyssey to leave you refreshed, invigorated, and longing for the ultimate beach getaway. Let's dive right in!
Here's all you'll need.
Ingredients
Chivita Exotic Multifruita (for that burst of tropical goodness)

Coconut simple syrup (to add a creamy and sweet touch)

Cognac (to give it a hint of sophistication)

Shaved coconut (to create a delightful rim for your tumbler)

Coconut trimmings and lime (for garnishing and a touch of zesty freshness)
Now, let's bring the tropical vibes to life
Start by lining the rim of your chosen tumbler with coconut shavings. This simple step will instantly transport you to a beachside paradise. Just imagine sipping your cocktail with a touch of coconut-infused bliss!

Grab your blender and add in the star ingredients – Chivita Exotic Multifruitta, coconut simple syrup, and a generous splash of Cognac. This combination of flavours will create a symphony of tropical delight that will tantalize your taste buds.

Now, it's time to give your cocktail that frozen, slushy texture we all love. Add a good amount of ice to the blender, cover it, and blend until you achieve the perfect frosty consistency. Watch as the vibrant colours and refreshing flavours come together in harmony.

Pour the frozen goodness into your tumbler of choice. Witness the velvety texture cascading into the glass, promising a moment of pure indulgence and escape from the ordinary.

Let's add the finishing touches to make your Frozen Tropical Cocktail visually stunning. Garnish the drink with coconut trimmings, allowing them to rest on the surface like a tropical oasis. Don't forget to include a lime wedge for that extra burst of tangy goodness.
Enjoy!
Catch a glimpse of the entire process in action by watching this video:
Don't forget to recreate this recipe for a month's worth of your favourite Chivita product.
Here's all you need to do:
Recreate this recipe in a short 15secs video and upload it to Instagram as a collaboration post with

@ChivitaJuices

Make sure you include the hashtag

#ChivitaStyleNSips

in your caption.

Be sure you tell your friends and family to like your video and comment with their favourite Chivita juice.

Be one of the top 5 engaged videos this week.
Remember, you and everyone who likes your video should be a follower of @ChivitaJuices
Till next week, shake your shakers and enjoy Frozen Tropical Cocktail
See y'all next week.
---
Sponsored Content
The post Hadiza Lawal has a Frozen Tropical Cocktail Recipe to Relish | Get all the details appeared first on BellaNaija - Showcasing Africa to the world. Read today!.
source
https://www.bellanaija.com/2023/07/frozen-tropical-cocktail-by-hadiza-lawal/