Editor's note: As the years go by, migrating to other countries has become increasingly popular, particularly for Nigerians (and Africans ge...
Editor's note: As the years go by, migrating to other countries has become increasingly popular, particularly for Nigerians (and Africans generally). Japa, we call it. For the next 10 weeks, Imo Ekanem, in partnership with BellaNaija Features, will explore what it means to live in Italy as an African professional.
Work & Life in Italy is a weekly series where we talk about how Africans live, work, deal with discrimination, and so on. Did you miss our episode with Semhal Tsegaye Abebe? Read it here.
This week, we are in conversation with Patience Tebogo Mashabane also called Teps, the talented founder and creative force behind the South African fashion brand, MySWESWI. Teps shares her inspiring journey as an African professional living and working in Italy, and how she has successfully carved her niche in the fashion industry. With her brand, Teps aims to showcase the beauty of South African culture to the world and create a platform for local talent in the global fashion arena.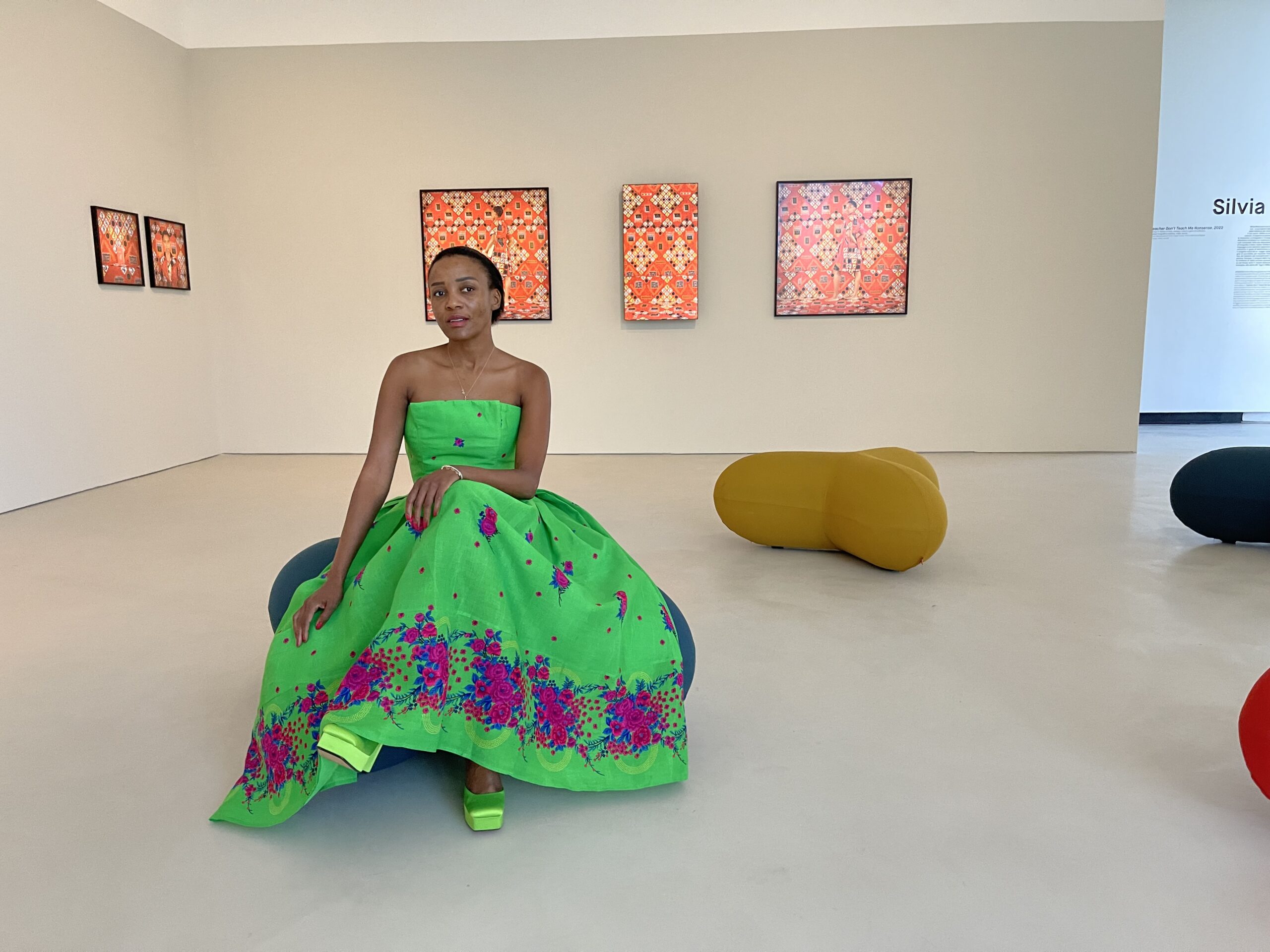 Hello Teps, thank you for being here
Hello. Thank you, BellaNaija, for having me.
Tell us a bit about how you became a fashion entrepreneur in Italy
I grew up in Soshanguve, near Pretoria. I was surrounded by various languages and cultures. My upbringing and the values instilled by my mother laid the foundation for my fashion journey.
My passion began when I stole my mother's Singer sewing machine. I started making garments and selling them to friends, and this fuelled my confidence and ambition.
After South Africa, I moved to Qatar, where the initial concept of MySWESWI, a fashion brand, took shape. Currently, I split my time between South Africa, the Middle East, and Milan, where I work closely with my supply chain and expert tailors. Italy became my second home through marriage and provided the perfect environment to merge South African and Italian fashion, promoting the beauty of my country.
The name, MySWESWI, sounds so cool. Tell us about it
MySWESWI is the embodiment of my journey as a black South African woman, proud of her heritage and eager to showcase it to the world. The brand started almost 9 years ago to bring South African culture to the international fashion stage. It began with 50 garments, inspired by the vibrant colours, fabrics, and traditional rituals of South Africa.
I was living in Qatar at the time, where I met Diego, who later became the co-founder of the brand. The pursuit of a sustainable and inclusive luxury fashion label led me on a journey through South Africa, Namibia, Mozambique, and finally, Italy.
"Sweswi" means "now" in my native language, Tsonga. MySWESWI represents the concept of seizing the moment and making one's voice heard. It signifies that it is our time, as Africans, to speak, act, and embrace our stories. The name reflects my determination to share the beauty of South African traditions, heritage, and diversity. When wearing MySWESWI, we invite others to join us in celebrating the power and uniqueness of our African culture.
What inspired MySWESWI?
MySWESWI is inspired by African clothes' legacy and bringing it to the international stage; Imagine a CEO woman wearing a local talent outfit instead of a classical tailleur (tailor). We aim to change the point of view.
Being a fashion designer gives a mix of freedom and responsibility. I am voicing out the potential of African culture. I want people to understand that they can look at South Africa as a source of beauty and luxury in fashion. We, the people of Africa, have the capability, the talent, and many stories to unveil. There are many stories to be told and I want the world to experience the design of local talents.
This sounds pretty interesting. Why Italy?
Italy's reputation as a hub of fashion excellence and its network of skilled artisans made it the natural choice for manufacturing and realising my vision. To be honest, living between Italy and other countries has eased the process of knowing the country whilst widening my expertise and knowledge. I consider myself blessed because I have not had to apply for a job. My entrepreneurial career matches my passion and Italy welcomed me. By combining my discoveries of Italian culture, my collaboration with local artisans, and my appreciation for handicrafts, which reminds me of South African culture, I have not only gained a deeper understanding of the society I reside but have also infused these influences into my fashion design.
Great! So how has living in Italy has been so far as an African?
Well, it's been an enriching experience. Italy, being the homeland of fashion, has provided me with an ideal environment to nurture and grow my brand. While challenges are present, I have been embraced by the Italian fashion community and the local artisans who have helped bring my vision to life.
Embracing a foreign culture as a black woman in a new country can be an overwhelmingly transformative experience, fraught with both apprehension and challenges. However, I found support from my Italian husband, Diego, and our daughter, which facilitated my journey towards assimilation. From the beginning, I made it a priority to immerse myself in the local culture, delving deep into its nuances and intricacies. This immersive approach allowed me to gain a profound understanding of Italian culture from an insider's perspective, which has greatly influenced my work as a fashion designer.
In my quest to comprehend the essence of the Italian culture, I embarked on extensive research to identify and connect with local artisans and skilled craftsmen who became integral to my creative process in enriching my designs. Additionally, my search for fabrics and accessories took me on a captivating journey, as I roamed the markets and boutiques, sourcing materials that would epitomise the essence of Italian fashion.
What are the challenges from your career journey as an African in Italy?
One of the initial challenges was overcoming scepticism as a black South African in Milan with the ambition to manufacture my collection. However, while language could have been an initial barrier, the passion and the garment designed for the collection have been bridging the differences and won the hearts of all the expert artisans involved in this journey.
Have you experienced any form of discrimination because of your race or accent? How did you deal with it?
The discrimination has been the scepticism I earlier talked about. Not a few times have I felt the "let me tell you what you should do" approach. I was faced with comments like "The logo is not right. The brand name is too difficult to pronounce. The collection is not for the season." So, slowly, I developed a few clear sharp questions to counter debate. For example, when someone asks if my collection is for summer or winter, I usually ask: "Which summer? The northern hemisphere or the southern? Because, you surely know, that when it is summer in Italy, it is winter in South Africa, and vice versa." The expression on the face of the person asking that question is priceless. They'd then realise the idea of why others' point of view needs to be considered. It takes time, but with kindness and firmness, you can achieve a lot.
Great to see you've crossed that bridge. What would you consider a special ingredient to your success?
Research, curiosity, creativity, strong roots and clear values are the ingredients for me. Also, the inspiration from the South African tribes' history reinterprets the traditional dresses, art, and the masters of fashion. I travel a lot and every journey is a source of inspiration. I work directly on mannequins, altering and cutting existing garments, and experimenting with the tailors and skilled talents. It's a joint effort that I supervise and steer leaving myself the time to re-think and do it again until I'm perfectly satisfied. I observe the people and translate them into comfortable and unique masterpieces.
Love it! What are the little things Africans in Italy can adopt to help them thrive?
Diving and embracing the local culture without losing or refusing your own identity. I used to say that my roots are my treasure to share with others. Italians are extremely welcoming and if you bring your culture with pride and strong values everyone will listen to your stories.
What are the things Africans looking to relocate keep in mind?
It can be tough but also there are plenty of people ready to help and support. Don't give up. Tell your story and find a way to politely remind them that there are other people's points of view to be considered. This is MySWESWI meaning: it's your time to speak, now!
***
Many thanks to Patience Tebogo Mashabane for having this conversation with us and to Imo Ekanem for making this possible. Catch up with the next episode next Sunday.
Do you want to be featured on BellaNaija or share your essays with us? Shoot us an email: features@bellanaija.com
The post "Work & Life in Italy" – See How Patience Tebogo Mashabane is Bringing South African Fashion to the International Stage appeared first on BellaNaija - Showcasing Africa to the world. Read today!.
source
https://www.bellanaija.com/2023/07/work-and-life-in-italy-patience-tebogo-mashabane/