In its response to ensuring lovers of its delicious pizza continue to enjoy more with less, Domino's Pizza, one of the three sub-franchise...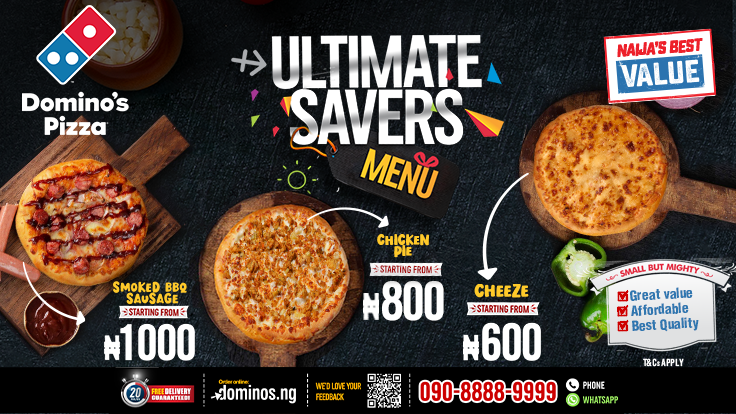 In its response to ensuring lovers of its delicious pizza continue to enjoy more with less, Domino's Pizza, one of the three sub-franchises of EatN'Go Africa, has announced a price slash on some of its menus to further reflect its customer-centric culture.
The new offer, tagged Ultimate Savers Menu, gives customers the opportunity to purchase Smallie Sweet Marghie, Smallie Chicken Pie, Smallie Smoked BBQ Sausage, Fiery Chick, Beef Suya, and Jollof Rice at reduced prices.
Effective August 9, 2023, Domino's Pizza customers across its numerous stores in Nigeria can now purchase the Smallie Sweet Marghie from N600 as against N1,200; the Smallie Chickenpie, which was N1,200, is now from N800; while the Smallie Smoked BBQ Sausage, Fiery Chick, and Beef Suya available that was also N1,200, is now from N1000; and the Jollof Rice from N800 to N600.
For nearly 11 years of its existence in Nigeria, Domino's Pizza has promised to regularly seek ways to deliver quality services to its customers through promos and the introduction of new menus that align with Nigerian flavour while ensuring pocket-friendly prices.
Speaking on the development, the Marketing Manager of Domino's Pizza, Mariam Busari, attributed the price slash, despite an increase in the cost of production across different sectors, to the company's passion "to ensure non-stop satisfaction for our customers. It is also one of the company's strategies to reflect on the rate of inflation in the country.
"At Domino's Pizza, we are true to our customer-centric culture and believe that everyone deserves a slice of the goodness that Domino's Pizza brings. Customer satisfaction is at the forefront of our operation; they are the foundation of our business, and we owe it to them to continue giving them the best pizza experience, best value, affordability, and accessibility, in line with our international standards.
To engage in and enjoy any of these offers. Visit any Domino's Pizza store or order through the official Domino's Pizza website, www.dominos.ng, or call 090-8888-9999 to place an order. Domino Pizza promises an order delivered in 20 minutes, delivery guaranteed, or a free medium pizza voucher. Customers can expect easy, convenient services that encourage more savings with such pocket-friendly offers. Available in all branches nationwide.
Domino's Pizza promises delivery in 20 minutes with Zero delivery fee. Completely free delivery always.
For other deals, visit the official Domino's Pizza Nigeria website www.dominos.ng
About Domino's Pizza
Domino's Pizza Nigeria is one of the leading pizza restaurants in Nigeria, providing exceptional pizza delivery and dine-in service, and one of the three sub-franchises of EatN'Go Africa. One of the leading pizza brands offers freshly made hand-tossed crust, Italian thin crusts, or premium pan crusts with a wide variety of toppings, such as the Chicken Suya. Side items include breads such as Cheesy Bread, Choco Pocket, Potato Wedges, Chicken Wings, and Chicken Kickers.
According to Domino's Pizza, they served over 500 million pizzas last year worldwide. Their delivery people drive more than 10 million miles every week to bring customers the best pizza they can make. They operate over 11,000 pizza places in more than 80 countries dedicated to providing great-tasting pizza for carryout or delivery to customers' doors.
---
Sponsored Content
The post Domino's Pizza Unveils Ultimate Savings Menu appeared first on BellaNaija - Showcasing Africa to the world. Read today!.