Doing Life With… is a BellaNaija Features series that showcases how people are living, working, travelling, journalling, taking care of thei...
Doing Life With… is a BellaNaija Features series that showcases how people are living, working, travelling, journalling, taking care of their families and… everything in between. We are documenting the lives of all people and ensuring everyone is well-represented at BN through storytelling.
Last week, we had a conversation with Chibueze Damian. Did you miss it? Read it here.
Elizabeth Adedeji is the founder of 21 Wool Street, and today, she tells us all about her love for art and the business of crocheting. Dig in!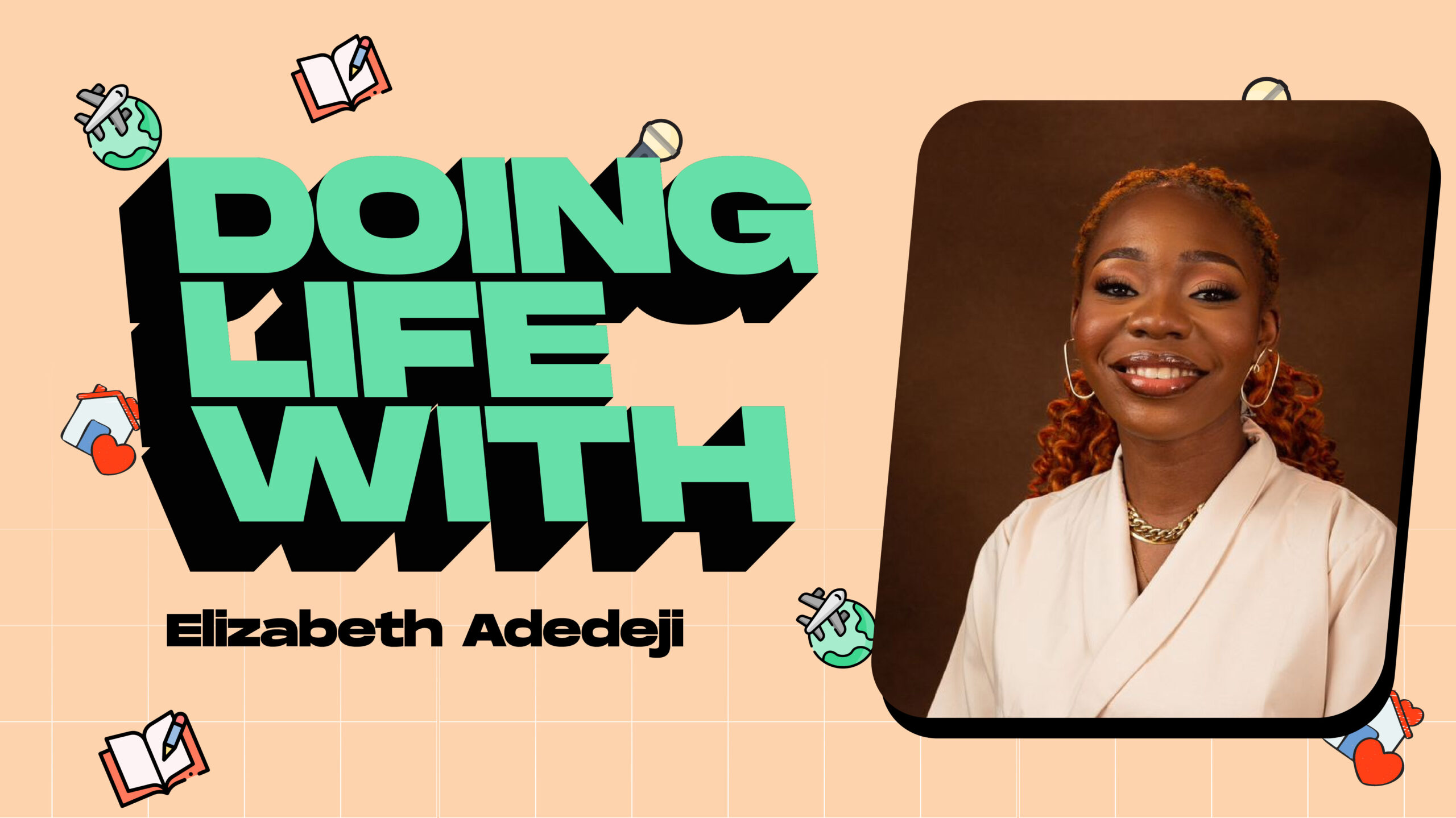 Hey Elizabeth, describe how you're feeling right now in 3 words
Tired, happy and… I can't think of a third. I'm currently watching an old Yoruba Nollywood movie with Omotola Jalade in it and I love the Iro and Buba fashion she's serving. Also thinking about the chocolate cake I'm about to make after this interview.
Yasss to a Saturday chocolate cake! Give us a glimpse into your background
I spent a huge chunk of my time in art class back in primary and secondary school. I had my first art exhibition when I was 10 years old. My grandfather from my dad's side and my grandma from my mum's side were tailors. I remember my grandpa used to make clothes for my siblings and me growing up and we had this old Singer machine at home. I always wanted to learn how to sew but never did. Aside from doodling fashion looks on my sketchbooks, I used to love playing pretend fashion shows with my sisters. I like to think bits and pieces of my love for art and creativity led me down the path of fashion.
Interesting. Why crocheting?
One day, I saw someone in church crocheting and I became fascinated. Like, how do you take a ball of yarn and create something beautiful out of it? I started to learn and immediately fell in love with the process and patterns. I also loved owning stashes of yarn colours so my mum always bought me packs of yarn every other weekend when she went to Lagos market. Yes, I was hoarding yarn, haha.
You'll find me crocheting everywhere – in school, during breaks, on holiday and so on. I spent the most part of my teenage years crocheting, but it wasn't until I got into university that I began to see it as an opportunity to make some money. Back then, crocheting wasn't all the rave yet in Nigeria but I made a crochet top for a friend and before I knew it, I was creating for friends, and family and even getting referrals. I figured since I love doing it and there's a market for it, it's worth giving it a shot.
And that, BellaNaijarians, is how 21 Wool Street was born
Hahaha, indeed.
Tell us about this journey
To be honest, it has been great with a lot of lessons to learn. Being an entrepreneur in Nigeria is not easy, especially as a crochet brand. Sometimes I lose out on custom orders when it's impossible to meet up with a very tight delivery time. It still happens but now that I work with a team of crocheters, it's been easier to manage expectations. Of course, we also have to deal with inflation, Naira devaluation and the many other things that plague Nigeria's economy.
I started off making crochet wear but I've gone ahead to add footwear and accessories like earrings and bags to our product range. Experimenting and trying out new things helps me figure out what customers gravitate to and how to keep the brand going. We got a lot of attention when we launched our Jadesola bag, it became that statement piece for influencers, the fashion girls and everyone who loves a good handbag. We've sold hundreds of pieces to women within and outside Nigeria and it's always exciting to see people style them.
So far, we've had two brides wear our crochet designs for their wedding day and that gives me so much joy.
Is there any design that makes you go "damn, I did that!"
Crocheting my first wedding dress tops my "damn, I did that" moments. It was mind-blowing for a lot of reasons – the fact that I was making it for my sister who wasn't in the country at the moment, so we only had one fitting for the dress a week before the wedding and it fit perfectly!
It took about two months to make the dress and I'm talking about creating a mood board, picking out the colour, stitch selection, sketching and just bringing her dream dress to life. It has had two viral moments on social media and people did not stop talking about it for days.
Awwwn. Have you had any wow moments or major highlights in the course of your business?
Yes! A lot of wow moments, especially in the past couple of months. 2022 was when I decided I was going to seize every opportunity that I could find and they just kept showing up, and so did I. In June 2022, I was selected as a finalist (2nd runner-up) for Topship's retail and design grant. Last year in December, we nearly sold out all our pieces during our first pop-up at Homegrown at ALARA and it was a pretty great feeling.
In March 2023, I was selected as a beneficiary of the SEED Ambition grant. Then, I had my first (international) fashion show in February, it was a Crochet Fashion Week show in Atlanta, America; a recent collaboration with TOMS on their launch in Nigeria. Everything was such a dream come true.
That's huge! Congratulations, Elizabeth
Thank you!
Let's talk about the process of crocheting. What are the step-by-step stages in making a design? How long does it take to complete?
There are two things at play here. If I'm working on a custom order, then I usually start by having a call or chat with the client to discuss their style preference and any input they have for the design before I get into it. If I'm working on a collection or project, I start by letting myself get inspired. That could be me doing some research, or paying attention to my environment, whether it's nature or art.
There are a lot of things to consider when it comes to crochet; the pattern, stitches, gauge, colour and yarn selection. I like to create a mood board which has everything I need to guide me through the design process and create my sketches. Once I have my design, I create samples of the pattern, order the yarn I'll be using, and get other materials like fabrics, zips, buttons, and so on.
Once all that is sorted, I start working on the design which could take days or weeks. Sometimes I end up starting a piece from scratch or taking out a couple of rows if I've made a mistake I can't salvage, which happens a lot. The term for it in crochet lingo is frogging.
Weaving in the extra threads of yarn once a project is completed is one thing every crocheter dreads, including me. This part could take hours but it's so important because you don't want the design to loosen after a couple of wears.
Two things the world must know about the business of crocheting?
A lot of people still underrate crocheting because it's seen as just a hobby but there are vast opportunities to monetise this skill. There are so many ways to turn crocheting into a business beyond the fashion industry, whether as an art form, or interior decor, the possibilities are endless. You can sell a detailed guide of your designs or patterns as a PDF for other people to DIY.
This year, I started running crochet workshops and activities for beginners who want to learn or use it as a fun bonding activity with friends and family, so that's an extra source of income for the brand.
Crocheters are also using platforms like YouTube to make money by creating tutorials. Passive income is important, guys.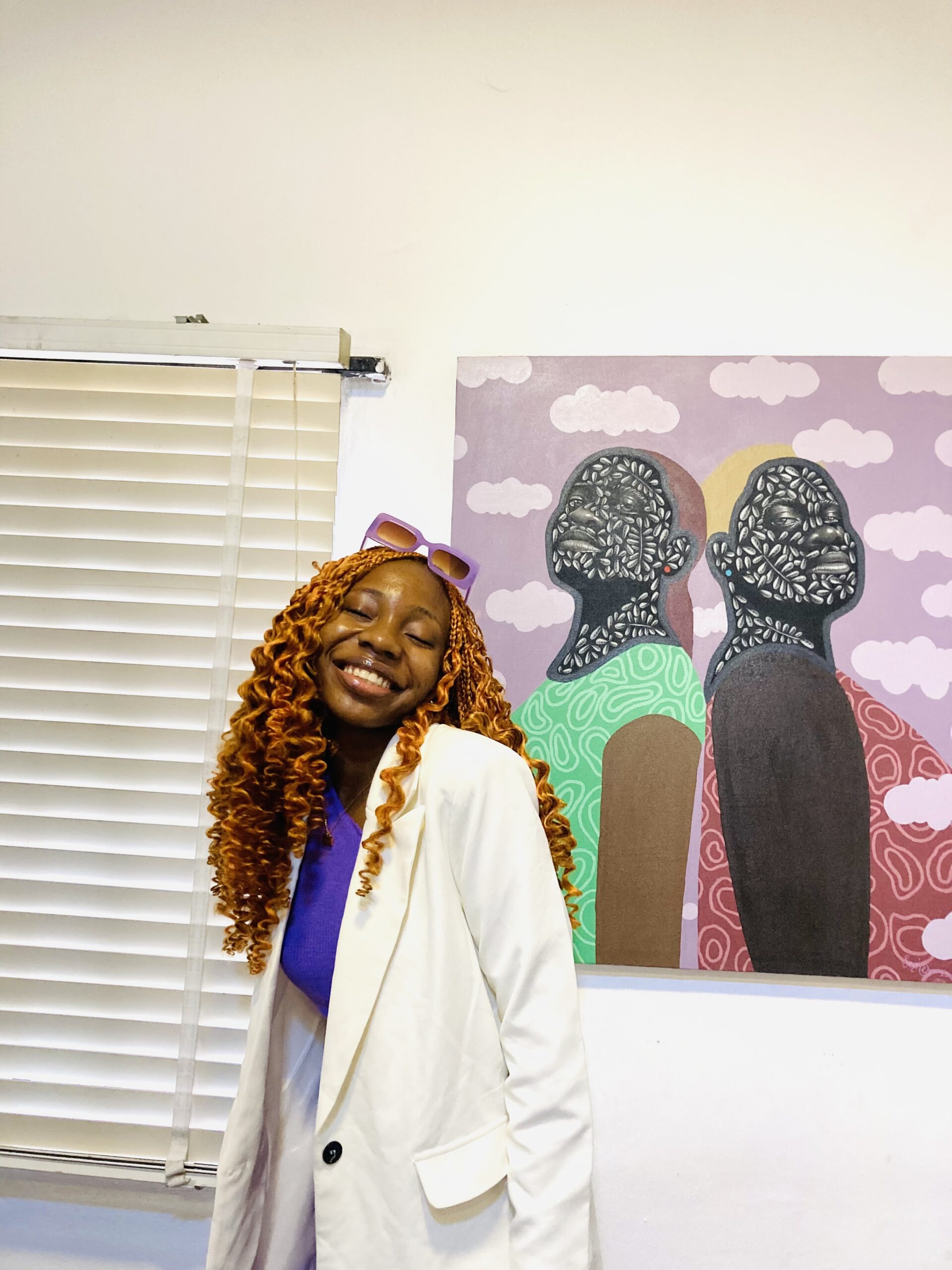 What's a typical day in your life like?
I'm up by 6 a.m., I have my personal devotion, and skip every morning by 7 a.m. Then I feed my dog, get ready for my day and make a mental note of important tasks to do. I don't always have my routine on lock, so other days, I just wing it especially when a lot of things get in the way or I have to head out.
From 9 a.m. to 12 p.m., I follow up or check for order requests in the DMs, pack up deliveries for the rider to come pick up, attend to my emails and check on my team to get progress reports on any orders we are working on. If I feel like having breakfast, I cook something up by 10 am or it usually ends up as brunch.
By 1 p.m., I put out the post for the day on IG, update my weekly content calendar plan or take note of any new ideas I might have regarding content or designs from scrolling through social media. Between 2 pm to 5 pm, I work on orders – watch a movie or listen to a podcast or music while I crochet.
Anytime between 6 p.m. to 7 p.m. is dinner time. I started journaling this year so I try to document how my day went and how I'm feeling. Then I take a 1-2 hours nap or doom scroll the internet. I like working at night, especially on days when I'm working on a big project or order, so I'm up crocheting from 10 pm to 1 am or 3 am. It's not healthy but it has to be done.
What are the little things in your everyday life that get you excited
Getting randomly cheered on by my friends, family or customers. I light up when friends or random people send me a "spotted moment" when they see someone wearing a piece from the brand, especially the Jadesola bag, or when someone tells me they're a fan of my work.
Also, playing with my dog, phone calls with my sisters, catching up with friends after weeks of not seeing each other, discovering new music, self-care Saturdays, moments when I remember to breathe, look up and adore the clouds, a beautiful sunset and nature in general.
Elizabeth in one sentence?
…is a creative who loves the comfort of her bed yet manages to always get things done.
Haha, a perfect bio! Thank you for being a part of Doing Life With…
Thank you, BellaNaija, for having me. I enjoyed answering the questions.
_
Many thanks to Elizabeth for having this conversation with us. Do you love this content, have any feedback for us, want to be a BellaNaija Features contributor or want to be featured on Doing Life With…? We'd love to hear from you. Shoot us an email: features@bellanaija.com
Join us on Saturday for the next episode!
The post Elizabeth Adedeji Gives Us a Glimpse into the Business of Crocheting in This Episode of Doing Life With… appeared first on BellaNaija - Showcasing Africa to the world. Read today!.